I quilt because it's fun and it helps relieve stress. Blogging is a way to keep track of what I'm making and to keep me focused on finishing projects.
Imagine my surprise when an e-mail arrived advising that I had been selected as one of the
Top 60 Canada Quilting Blogs
on the web. Wait...what?? Me??? So I click on the link, and there I am -- #48 on the list.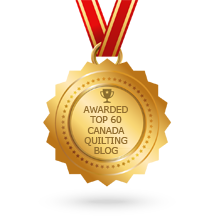 I feel so honoured and privileged to be on the list. My purpose in blogging is not to be praised or to receive awards, but it sure is nice to be recognized.
I am fortunate to be recognized along with some great bloggers, including some friends:
Linda @
Scrapmaster
-- #30 on the list
Leanne @
Devoted Quilter
- #31 on the list
Lesley @
The Cuddle Quilte

r
- #14 on the list
There are other bloggers on the list that I do follow, but there are a lot of blogs that I was not aware of. Go Canada!
I hope you
click on the link
and join me in checking out some Canadian bloggers.